Pentair- Onga SilentFlo Pool Pump
Regular price
CALL FOR PRICE
Regular price
Sale price
$0.00 AUD
Unit price
per
Sale
Sold out
A specially designed sound-dampening pump casing and base make pump operation incredibly quiet, enabling you to run the pump at night without disturbing the neighbours and take advantage of the off-peak tariffs.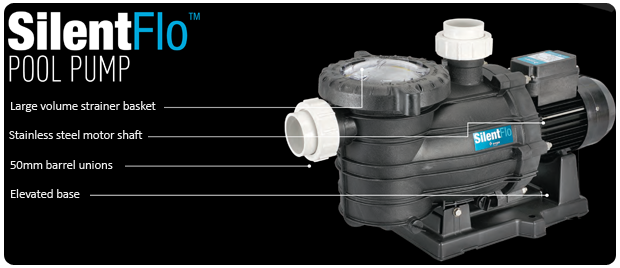 High efficiency
Precision-fit internal components and superior hydraulic design deliver effortless performance, energy savings and extended pump life.
Elevated base
Further dampens sound and vibration for even quieter operation and keeps the pump above sitting water which minimises corrosion.
Stainless Steel motor shaft
Extends the life of the pump by reducing corrosion.
Large volume strainer basket
Minimises the maintenance requirement by extending the time between strainer basket clean outs.
50mm barrel unions
Quick and easy to install, while allowing pump removal without flexing pipework.
Dual connections
50mm thread or 50mm quick-disconnect barrel unions. Allows piping flexibility - threaded connections allow for permanent installation - service is still possible y removing the motor and yoke from the casing.
Thermoplastic casing and hydraulic parts
Constructed of our durable thermoplastic composite resin, so you can be sure it will stand up to the hardest conditions.
Cam & Ram lid
Easy to remove, locks in place with a quarter turn, making inspection and cleaning a breeze.
Captive bolts
Easy servicing, no lost fasteners.
Share